SAVE $$ with our BAKER TRAVEL CLUBS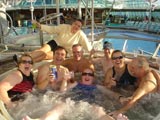 Singles Cruise
Are you single and dreaming of a cruise vacation, but
don't know what to do next? You're not alone! Many single travelers would like
to meet other singles while enjoying a cruise. Cruising is the perfect
singles vacation. There are many cruises for singles.

See listing of Single Cruise line options for Solo Cruises:

Norwegian Cruise
Line:
Norwegian
Epic, features 128 studio cabins targeted at and priced for solo cruises.
This ship offers inside Studio cabins with no single supplement! In addition,
the Studio cabins have exclusive access to the Living Room, and area with bar,
video and lounge where solos can meet up, socialize, and most importantly for
Norwegian, make plans for meals and entertainment. We highly recommend these
cabins to solos looking for a value, socializing and excellent
entertainment.

Special Extras: A full-size bed, flat-screen TV and
private bathroom are all squeezed into these 100-square-foot accommodations.
Although all the studios are inside cabins, they each have a window that looks
out onto the corridor. Four different colors of ambient lighting jazz up the
room. But the biggest perk is access to an exclusive, shared social space called
the Studio Lounge. It's a sleek hangout space, with its own large-screen TV's,
coffee-making facilities and a bartender at certain times of the
day.

Carnival:

Formerly
a somewhat solo-friendly line, offering reduced supplements across the board for
their Category 1A cabins, Carnival has recently removed the reduced supplements,
and now has 100% supplements in all categories for all sailings. While they
might occasionally reduce supplements, these are not advertised and are found
only by accident. Carnival also charges a supplement in their port
charges/Non-Commissionable Fares. While their onboard atmosphere is very
solo-friendly, these pricing policies have changed Carnival to a line difficult
to find values for singles cruises.

Holland America Line:
HAL is renowned for catering to solo guests. There are
plenty of programs that don't require partners, and activities that can be
delightfully solitary or a means to meet others (the culinary programs, from
hands-on workshops to wine tastings, are tons of fun!). The Single Partner's
Program, its roommate-matching service, matches passengers of the same sex with
others who want to share -- and guarantees you'll pay just the double occupancy
price, even if no partner can be found.

Special Extras: Singles
are invited to meet and mingle at a cocktail mixer and on voyages of 30 days or
more, gentleman hosts are available for dancing.

Discounts
available: Typical rates run from 140 percent to 200 percent for solos.
Holland America does not offer any special solo deals.

Costa
Cruises:
They actually have single
cabins (or in some cases, regular cabins priced for solos) on most of its ships.
Unfortunately for American cruisers, these solo staterooms are not available
outside of Europe.

Special Extras: This Italian cruise line offers
singles' meet-and-greet parties on board, and the full range of other
traditional shipboard activities that encourage social interaction among solo
passengers. As Europeans love to dance, Costa's newest ships have some of
the largest dance floors on the seas. While they don't have dedicated gentlemen
hosts, there are plenty of opportunities to take to the dance floor for
everything from merengue to polka!

Discounts Available: Europeans
who book a dedicated single cabin do pay a supplement, but it can be as low as
30 percent above the double-occupancy rate. North Americans typically have to
pay 80 to 100 percent more than the regular fares.

Crystal
Cruises:
Crystal is one of
the most popular luxury line for solos, who make up to 15 percent of its
passengers on some sailings. Solos are attracted by the wide range of activities
onboard, plus singles' parties, gentleman hosts and supplements that can be as
low as 25 percent for certain categories. Many luxury-minded solos also choose
Crystal because it features assigned dining room seating, which is unique in
this market segment (most luxury lines have an open single-seating dining room);
this set-seating dining policy means you dine with the same folks every night.
Additionally, the Table for 8 program lets solo travelers dine at the specialty
restaurants with other singles. Finally, while Crystal Symphony and Crystal
Serenity are as spacious as super-liners, they carry only 940 and 1,080
passengers respectively; a sense of community prevails
onboard.


Discounts Available: Crystal adds only 25 percent for
categories C through E, 35 percent for categories A and B, and 50 percent for
category AA.
The major cruise lines vary from line to
line in how friendly they are to solo cruisers. Some are more friendly in their
pricing policies, some are very accommodating to solos onboard... and some seem
to not be interested in solo cruisers at all.




Cunard:
This line typically charges a full 100% supplement, though occasional specials do
occur. Typical of luxury lines, their onboard offerings are very solo-friendly
and they have a long history of accommodating solo travelers. Since they provide
gentleman hosts for dancing on all cruises, this line is excellent for single
cruises.

Special Extras: Solo travelers will never be bored with
so many activities taking place onboard. You can attend lectures by experts in
various fields, see a planetarium show on QM2, enjoy theatrical workshops and
performances by the Royal Academy of Dramatic Art, play numerous rounds of team
trivia, and bliss out in the spa.

Discounts Available: Cunard's typical solo supplement is 200 percent for Queens and Princess Grill and 175
percent for inside, outside and balcony cabins. Very occasionally will the line
off discounts to solo travelers.

Silversea
Cruises:
Silversea doesn't offer "single" cabins but its occasional special fare deals means that a solo
traveler can sail alone without a huge penalty. Typical solo fares are 25 to 75
percent above the double-occupancy rate, but may be eligible for Silver Savings
discounts and free or reduced airfare. Singles make up about 10 percent (pretty
significant in cruising) of its passengers. Another plus: With just 296
passengers on Silver Cloud and Silver Wind, 382 apiece on Silver Shadow and
Silver Whisper, and 540 on Silver Spirit, solo cruisers find it easy to feel at
home. Some of the enrichment programs and special interest cruises ensure a
compatible mix of people with like interests, solo or not.

Special
Extras: A cocktail reception is held on every voyage with a large number of
solos. Most voyages of over 10 days also have male Social Ambassadors onboard as
dance partners and shore excursion escorts.

Discounts available:
Solo fares are often as low as 125 percent of the regular fares, but occasional
sales can bring single traveler rates down to 110 percent. The line is quick to
point out that these fares are "capacity controlled and subject to
availability." In other words, book early!

Royal Caribbean, Celebrity and Azamara Club
Cruises: These sister brands have very similar policies. All three are standard at full 100% supplement, though as
sailings get closer, they frequently offer reduced supplements, either across
the board, or to specified groups such as Seniors, Military, and residents of
certain states. In addition, Royal Caribbean and Celebrity offer weekly "Happy
Hour" specials (also known as Sales Events and Xciting Deals, respectively)
which offer not only dramatically reduced fares, but also frequently a reduced
supplement as well. These specials occur most weeks, usually on Tuesdays.
Azamara Club Cruises also is becoming more solo friendly with supplements as low
as 25% on selected sailings! These lines also do not charge a supplement in
their port charges/Non-Commissionable Fares. Because of all this, these brands
are some of the most solo-friendly, especially for booking within 2 months of
sailing date.

Uniworld and Viking River
Cruises:
Very solo-friendly cruise lines, offering
reduced-supplement cabins on all sailings (limited availability) and also
frequent reduced supplement offers.

AMA
Waterways and Avalon:
Excellent cruise lines but not quite as
solo-friendly in their pricing. River cruising by its nature is a very
solo-friendly way to cruise, with an all-inclusive pricing, including tours, and
easy socialization onboard for solos. We highly recommend all these lines for
singles cruises.

Of course, if you have any questions about any cruise line, about their pricing or onboard experience,
please call us. We've sailed many of these lines, and are happy to share
our experience. Together, we can find the right fit for you!







---